Creative Hub is developed with an aim to introduce different art forms to children (6-11years) and enable them to choose the right creative path for future. I strongly believe that the most important part of any artform is the journey of creating that art. The process of art making is as important as the end product itself. To mark the achievement of this journey as an Arts Award adviser, I work with the children to deliver Arts Award Discover certifications and Explore - Level 3 qualificaion which is a nationally accredited qualification awarded by Trinity College, London.
Creative Hub Collage Course
I hosted a week long course in the summer break 2018 for children to discover collage art. They were provided with resources, guidance and the freedom to be creative. The children enjoyed their art journey and created some amazing artworks!
They worked in these areas of the art form – knowledge, understanding, creativity and communication. They, took part in art activities, recorded what inspired them, their experiences about collage art and artists, and presented their exploration to parents, guardians and peers.
They had a fun creative week and sucessfully completed their Discover Art Awards!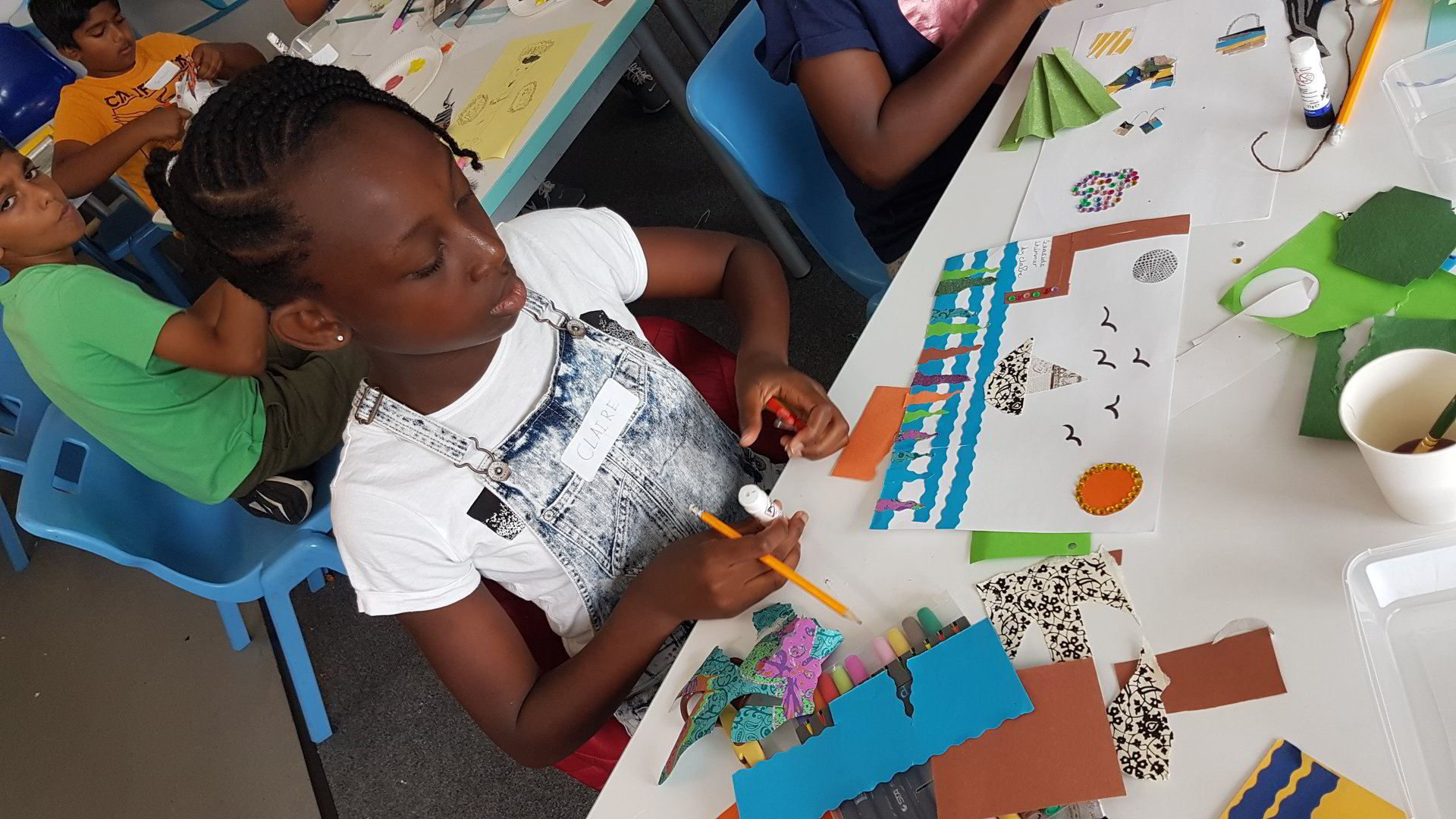 "What did they say about Creative Hub"
"I think it's really fun and it allows us to let our creativity run."
"I like the club because you get to do a range of arts everyday for a week."
"I like it because we get to use our imagination and be creative."
"I love the fact that the children were given the liberty to make their own decisions on what they wanted to create. My kids definately enjoyed the course and I was stunned by the themes they chose to work on."
"Eva enjoyed the Creative Hub a lot! She kept talking about the variety of artworks she worked on and it even inspired her to continue to do some art work at home. She wanted to learn how to draw and had a go at that. Thanks for running the Creative Hub!"
Arts Award is a highly respected and universal qualification, based on sound approaches to teaching and learning. These are unique set of qualifications awarded by Trinity College, London that supports and encourages children and young people to explore new areas of the arts. They develop young people from all backgrounds with transferable skills such as confidence, leadership and organisational skills. The flexible framework of arts award means young people can work on a wide range of arts and cultural activities and projects, including creative and technical roles.
Arts award has five levels of which Discover and Explore are designed for children 5-11 years. They can carry on working on Bronze, Silver and Gold levels and earn 16 UCAS points after completing the Gold level. Children are awarded a certificate after completing each level subject to successful assessment. They also take home a portfolio of their art journey in achieving that level.
More information can be found on Arts Award website.
As a part of our Bricks on the Wall project, I have delivered Arts Award Explore to 51 children from year one at Haimo Primary School, Eltham in May 2018. 10 children completed their Discover certification our week long summer holiday courses at Creative Hub.
My workshops and projects for young children are designed to incoprate Arts Award into them. If you are looking for regular sessions for your child/children to discover and explore different crafts or visual art forms such as collage, printmaking, paper craft, sewing and others, then please get in touch at contact@artiday.co.uk for more information.
Arts Award at Haimo Primary School
Children from Haimo Primary School participated in our community arts project "Bricks on the Wall" where 51 children from year one explored collage art form. Their project theme was multiculture and they made 2D cardboard bricks inspired by Kurt Schwitters to express their views. They worked towards their Arts Award Explore through this project and successfully completed their Arts Award Level - 3 qualification.
They had an exhibition of their artwork in school and the bricks will also become a part of our Wall art installation in SE9 Container gallery in Sept 2018. The school exhibition was followed by a very successful parents brick making workshop.
The year one class teacher said - "The children really enjoyed learning and making the collages. They looked forward to going out for their art sessions each time and were keen to talk about it in the class. There was a lot of information which was very interesting. The advisers were very well organised and easy to work with. They were lovely with the children and adopted to suit their needs. The children really tried hard to produced careful and impressive work"